Now, more than ever, it is imperative that stellar customer service continues long after the ink has dried on the dotted line. In sales, it isn't abnormal for communication to falter, slow down, or even cease after the deal has been closed.
Ron Kendig, 2Win!'s VP of Consulting, understands that the pace set for sales makes it difficult to be attentive to newly acquired customers. "Let's face it things move fast in today's B2B environment. We are often onto the next deal just as the previous is finalized. Don't underestimate the power of the referral, as a positive reference is still one of the most powerful buyer motivators. Keeping in touch with your customer can be key to developing your customer into a raving fan."
John Coker, 2Win! Global's Director of Sales, points out that the "true customer experience" starts after the deal is closed. "A great customer experience is truly differentiating, and will drive long term mutually beneficial partnerships that lead to expanded revenue opportunities, renewals, and referrals." So what constitutes a true customer experience?
Daniel Conway, CEO of 2Win! points out that, "people often forget that clients are hyper sensitive to how, or if, they are treated differently after they sign the contract. "They deserve 5-star service before and after ink from every individual that touches a customer."
Staying Connected to Your Client
2Win!'s Director of Client Success, Taunya Bunte, has two phrases engrained in her team. T+30 and T-12. "T+30 is my phrase for anyone that signs up for a 30 day trial from us. As an organization, we want that trial customer to receive something of value from us at regular intervals during those 30 days." She goes on to say that "T-12 is how we view service and intellectual property delivery for each of the twelve months of their subscription. We don't want to be in month 12 racing to provide last-minute value to a customer that is coming up on renewal. They should experience value throughout the whether that's just a quick email, a phone call, or a more formal status meeting." In the age of "auto-renew" contracts, it is easy to offer minimal service and communication, but you will be doing the client, and your team, a disservice. With regular communication, you'll have multiple chances to prove the value of your services & solution, set timeframes and expectations for renewal, all while deepening the relationship.
Beyond the renewal, receiving a customer referral is natural when you've provided regular value throughout the contract period. Ms. Bunte stands firm with Dale Carnegie, who noted that 91% of customers said they'd give referrals when prompted to do so, yet only 11% of client-facing personnel ask for them. "Remember," says Bunte, "you will rarely receive a referral you don't ask for."


Taking Care of Your Customers Leads to Referrals
Taking care of your customers is your finest path toward achieving strategic initiatives. 2Win!'s Global Director of Digital Marketing Jessica Montville points out that, "referrals aren't just nice to have, they are the foundation to achieving strategic initiatives such as year-over-year revenue growth, reduction in churn and new client adds." 78% of marketers agree that referrals have a higher conversion rate than any other lead. "In addition," says Montville, "don't forget to thank your customers for making those connections for you, customers are known to not only refer you once, but 3 times over, and having an integrated Sales - Customer Success - Marketing initiative solely around referrals will ensure lead proliferation."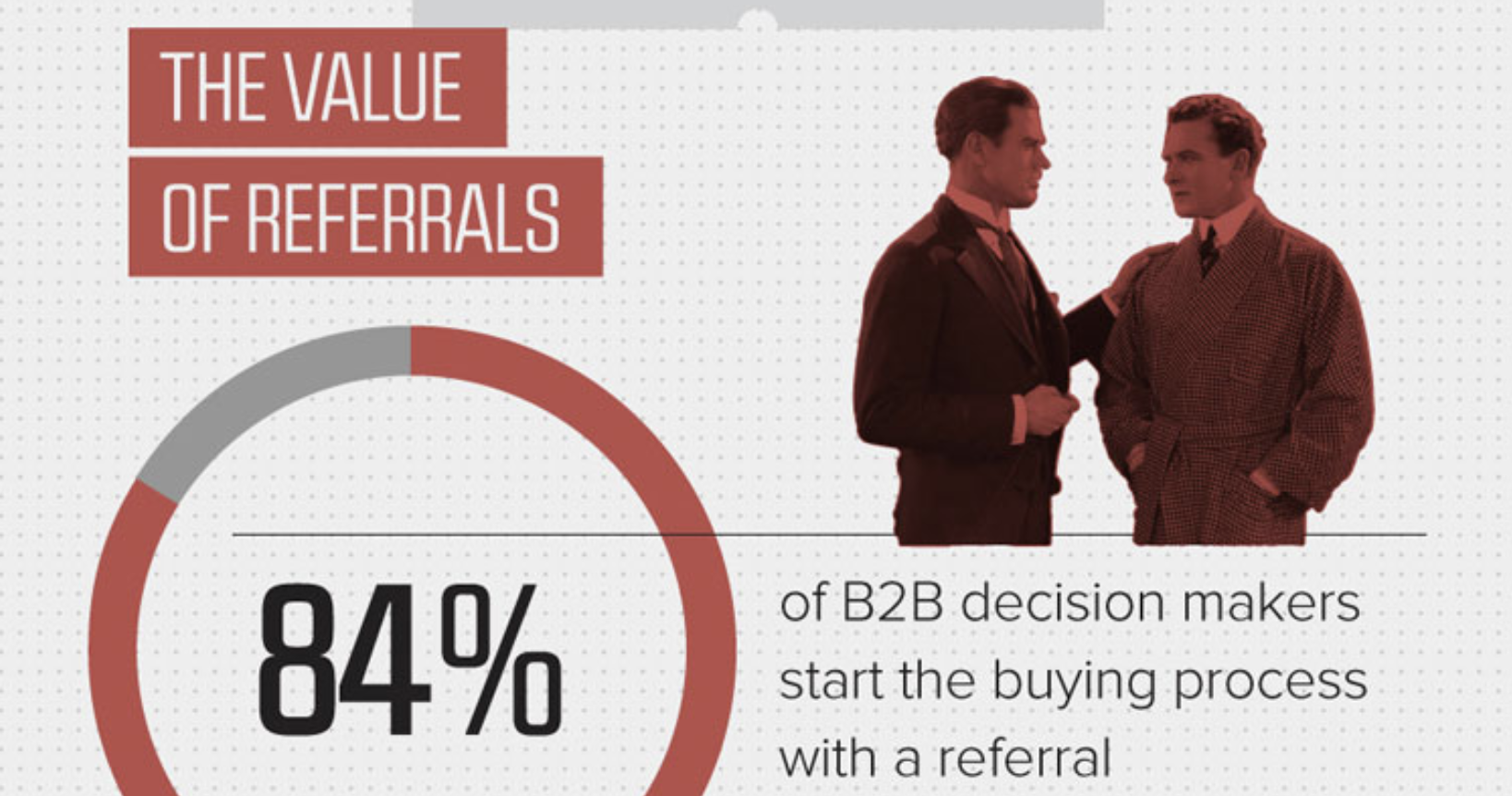 (Image source: B2B News Network)
Investing in Your Customer Success Team
One of the most efficient and consistent ways to offer continual value during T-12 is to invest in your Customer Success Team. The challenge is that they are constantly pulled into support escalations, and the tyranny of the urgent quickly replaces the strategically important, putting long term client value at risk. Customer success teams need practical skills to disarm difficult client situations and move toward resolution by being trained on active listening and objection handling frameworks. They need confidence in their ability to lead these conversations as they are made aware of the choices they can make in critical moments of objections to steer clients in the right direction. This confidence allows participants to rise above the day to day details, thus creating space for more strategic conversations.
The CST also needs an agile discovery framework to help them uncover client motivations. This framework will enable them to drive value and, open doors to additional stakeholders that may implement new use cases leading to expanded licensing and subscriptions. Finally, CST's need to learn how to elevate their presence with executives in boardroom settings and, how to use storytelling to make the value your company is delivering to clients memorable.
In our latest Rule of 24 workshop Executive Impact, Customer Success participants spend two days focusing on the foundational principles behind delivering value all the way up to executives throughout the T-12 period of time.